Over the course of your career as a coach, you will meet many potential clients. Some of them will be an excellent fit for your coaching practice, but some of them will not be. There are a few things you can do to help a client determine if you are the right match for them as a coach (and if they are an ideal client for you as their coach):
Create a coaching pitch deck.
A pitch deck is the place where you will put key information about your coaching in one place for a client to learn more about who you are as a coach. Pitch decks often include information about your coaching philosophy, whether you are certified and by whom, what the process of coaching looks like when working with you, past client testimonials, and the next steps that a potential client needs to take to hire you. Consider your pitch deck to be like a brochure about your coaching.
Here's are some sample pages from a coaching pitch deck so you can see what it might look like: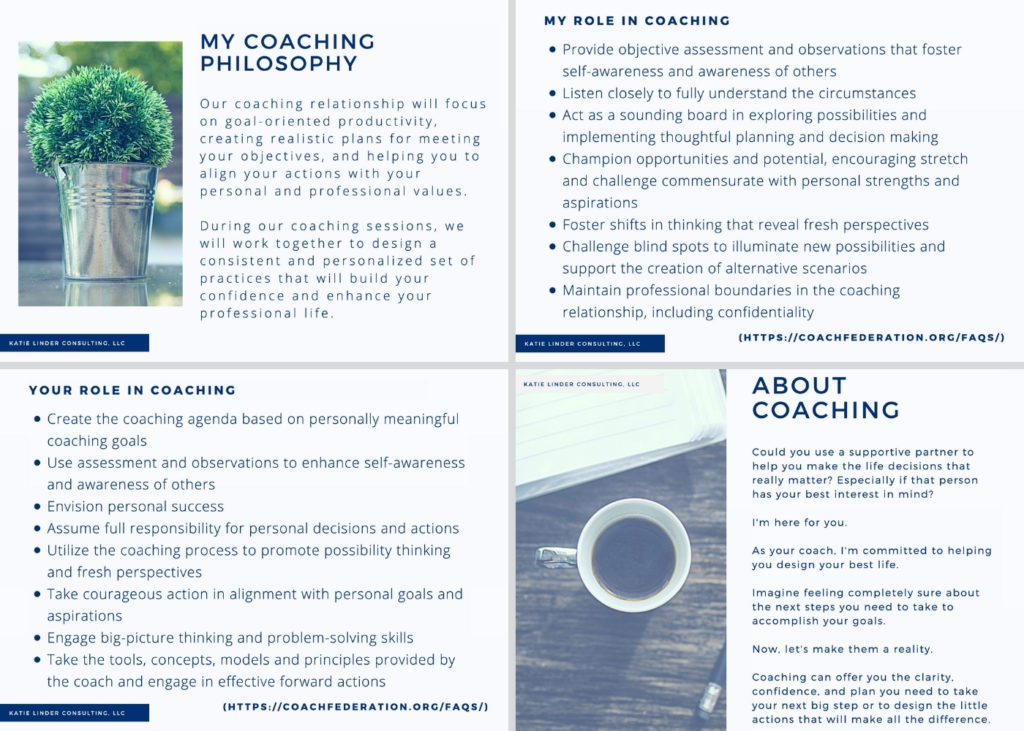 Niche your coaching.
Deciding on niches for your coaching means clearly defining who you work with and on what topics. For example, your ideal client might be women in mid-career, or students who are exploring their career options, or senior executives who are looking to gain clarity on their values. Whomever and whatever you decide to focus on, this will help clients to see if you are right for them. Check out this post on coaching niches in higher education for some examples of possible coaching focus areas.
Design a compelling website.
Your pitch deck and information about your coaching niche can both be the basis for a website that clearly outlines who you are as a coach and who you serve. Draft website copy that allows your potential clients to get a glimpse into what coaching with you will be like. Including past client testimonials can also provide social proof of the effectiveness of your coaching.
Talk about your coaching practice.
By talking about what kind of coaching you offer, who you typically work with, and the positive results that clients receive from your coaching, it will help other people to know when to recommend you as a possible coach to friends, family members, or colleagues. Getting the word out about your coaching practice can also happen through social media posts, blogging, being a guest on podcasts that have listeners with your ideal audience demographics, and through other forms of communication like email newsletters.
It can be tempting to try and coach everyone on everything, but the more you clarify what you are really good at in your coaching practice, the easier it will be for you to find and serve your clients to the best of your abilities. You will also want to meet and learn about different coaches who serve clients in your industry. This will allow you to recommend other coaches to clients who may not be the right fit for your particular services.